For Business Leaders with a Growth Mindset
Get Your Copy to Know Why 39 Notable Business Leaders From Across Industries Think This Book Is A Must Read!
The Propel Way is for new-age entrepreneurs who are constantly looking out for better and smarter ways to grow and improve their business. It is for Entrepreneurs who believe that the learning never stops and are willing to drive positive changes in their organizations.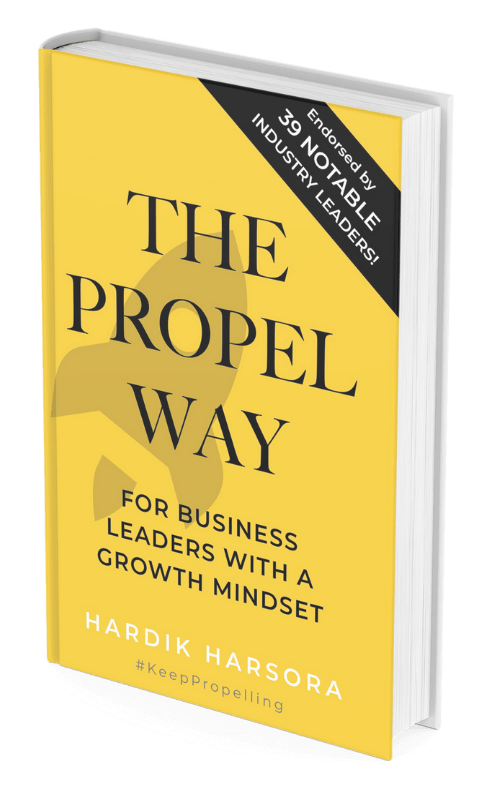 The Propel way by Hardik makes for interesting business reading. There is plenty of learning here. It is full of real-life anecdotes, with an often humorous take on situations. It shows you how to define a problem and how to go about resolving it.

I suggest taking the time to go through it. It can change your business mindset and help you look at problems and business methods that enable you to grow in the right direction.
Vikash Mittersain
Honorary Consul of Republic of Mali
Chairman & Managing Director, Nazara Technologies Limited
---
This book puts across key elements of entrepreneurship in an effective manner. A light and engaging read, The Propel Way allows you to ponder upon business basics. If you are a thinking leader, this book is for you.
Perizaad Zorabian
Director, Zorabian Chicks Private Limited (Zorabian Chicken)
Indian Actress
---
The Propel Way vividly captures real life scenarios that are pain points for most businesses. It then presents a practical and methodical way to resolve these issues. A great read indeed for every entrepreneur.
Krishna Gupta
Managing Director, Lloyds Luxuries Limited (Truefitt & Hill India)
Founder & Managing Director, Pizza Chain Factory Limited (1441 Pizza)
Forbes 30 Under 30 (2020 India and Asia)
---
Hardik is very motivational. His views are out of the box. When entrepreneurs have ideas, they are often unable to follow it through to fruition due to factors such as time management, team management, and talent management, among others.

In this book, Hardik has made it possible for entrepreneurs to dream, and to also bullet proof their dream with awesome ideas to ensure things are implemented in a time bound manner. The narrative is largely about his own experiences, complemented with numerous examples, that make it a gripping read. All the best! More power to you!
Pulin Shroff
Chairman & Founder, Jan Pro India
Managing Director, Charak Pharma Private Limited
---
Thanks for letting me share my views. It has been great interacting with Effex for both Health Saverz and Aarvi Encon.

The book outlines how you can grow your enterprise by improving performance in a structured and systematic approach. The Propel Way is a handbook to help you apply structured thinking to your business. Best wishes to Hardik and Team Propel.
Jaydev Sanghavi
Executive Director, Aarvi Encon Limited
---
The book gives immense clarity on finer aspects of finding the 'why', and how to sustain and grow one's business. Many important leadership skills are discussed, and there is a clear structure on how one can go about acquiring these skills. An added bonus is that it is all explained in an interesting and easy-to-understand manner. It is a must read for business leaders.
Anurag Goel
Director, Goel Ganga Developments (Goel Ganga Group)
---
The book authored by Hardik is one of the most engrossing business books I have read. It brings to the table the most crucial aspects that an entrepreneur must take action on. It also provides clear steps to achieve the same. It is, undoubtedly, a highly recommended book for all business owners.
Ajay Ajmera
Founder & CEO, Ajmera Fashions
Director, Ajmera Retail Private Limited
Founder, Ajmera Naturals
---
The Propel Way opens up tremendous insights on how entrepreneurs can solve everyday business problems in a very systematic way, rather than the usual ad hoc manner that we adopt. It is an absolute eye-opener and a must-read for entrepreneurs.

Having had a great association with Hardik, and his team, for process consultation for our organisation, this book sums up our improvement journey extremely well.
Pakshal Shah
Managing Director, Stylrite Optical Industries
---
Hardik has clarity of thought, and it manifests very clearly in his writing, This a practical guide to understanding and solving problems. The Propel Way is a must-have book in any entrepreneur's library.
Shyamm Mariwala
CEO, Marson Capital Advisors
Owner, Nandan Coffee (Nandanvan Coffee Estate)
Director, Yaraman Coffee Private Limited
---
Hardik's approach towards arriving at business solutions is very simple, yet detailed and honest too. This book offers rich insights, with a systematic approach to resolving business issues. There are relatable examples in each chapter – from identifying the problem, evaluating different solutions, and selecting suitable solutions. Business processes can then be designed accordingly and ultimately lead to implementation.
Ashwin Gajara
Director, Ashwani Metals Private Limited
---
This book is for entrepreneurs, both young and old, who are looking for growth and freedom of time. The author drives the point that a team's performance can be enhanced when processes with objectives are defined in detail. An easy and fast read, The Propel Way will force you to think differently.
Pratik Garg
CEO, Tulsa Group
Executive Regional Director, BNI (Siliguri)
Region Partner, Venture Catalysts
Franchisee, Gold's Gym
Associate Partner, Garg Enterprise
---
Hardik has articulated the concepts of business growth and performance management extremely well. This instantly helps the reader achieve clarity and conviction on the practices and steps explained in this book. It is definitely a great read for entrepreneurs.
Anup Gupta
Director, Sykes & Ray Equities (India) Limited
---
Managing your problems can only make you good, whereas building your opportunities is the only way to become great. This book is going to give us one such opportunity to become great . Don't miss it!
Gaurav Sethi
Director, Intercont Freight Liners Private Limited
---
Hardik is God sent to all ambitious business groups. The Propel Way is like a Bible on improving business processes and introducing newer techniques for optimal usage of resources. I wish many more clients for Hardik's firm since he deserves them. Besides, clients are sure to get an excellent guide.
Dr. Sangeeta Reddy and Dr Praveen Chandra Reddy
Directors, Reddy Healthcare Private Limited
---
Throughout the book, the author has maintained a fine balance between mentioning real-life business problems and application of The Propel Way to overcome such problems. This, in combination with an engaging narrative makes The Propel Way a fantastic read for anyone in business, and especially for entrepreneurs.
Namrata Thakkar
Founder, Entrepreneur Excel
---
A fantastic must-read that every entrepreneur and businessman, who dreams big, should follow! The Propel Way defines the various intricacies of the business world perfectly and it is the ultimate guide to tackle such challenges. Hardik Harsora takes opportune thinking to the next level, making it super easy and insightful for dreamers. Personally, I was mentored by Hardik. He handheld me and brought on the next level of transformation. Highly recommended and greatly appreciated!
Kotni Tirumal Kumar
Director, SriDurga Retail Private Limited
---
Can a businessperson take a break for three months? And during this time, can the business continue to run? The blueprint laid out in The Propel Way shows exactly how you can take a break with your business continuing to function smoothly. It tells you so with ideas and examples.
Dr. Vivek G Mendonsa
Group Director-Marketing, Lawrence & Mayo
---
In this book, Hardik Harsora pushes you to think on key questions — the 'whys' that are needed to grow any organisation in a systematic manner. In addition, he explains the 'hows' as well. So, there is clarity on the concepts shared. I thoroughly recommend this book for business growth.
Rajesh Kohli
Owner, Warner Industries (India) Private Limited
---
This book is a must read for all entrepreneurs who are looking for sustainable scalability. It offers clarity on the 'why, what and how' of building company processes and aligning them with the company's mission. Simple, impactful, and clear perspectives shared.
Manoj Monga
Founder and Managing Director, Immunoshop India Private Limited
---
A very engaging read from start to end, Hardik Harsora has illustrated business growth ideas in the form of a crisp narrative. A highly recommended book for business owners.
Mihir Kotak
Principal, 4th Dimension Architects
---
I have known Hardik Harsora for many years now and the value that he, and his team, bring to the table for business processes is tremendous. As an author too, Hardik has done complete justice in explaining how businesses can use The Propel Way for growth and efficiency.
Chetan Mashruwala
CEO & Founder Director, Viken Tape Private Limited
---
The Propel Way is a must read for all entrepreneurs, and it touches upon the most common dilemmas faced at varying levels of business. Hardik has curated both a systematic approach and a process-driven method to propel exponential growth.
Akash Doshi
Director, S. Doshi Papers Industries Private Limited (SlickFix and Surefix)
---
Thought-provoking concepts for businesses amid figuring out a systematic way to grow.
Lalita Tharani
Co-Founder and Principal Architect, Collaborative Architecture
---
A book with meaningful and practical business concepts among the ones that I have read in a long time.
Ashish Gosalia
Director, Spark Vision (Pitt & Mitt)
---
A fantastic book that identifies the exact challenges in the everyday life of an entrepreneur. It also provides constructive and clear solutions. Hardik Harsora has used very good examples to explain concepts. This is a highly recommended book for business owners.
Sahill Zaheer
Owner, Platform Production
'International Host n Dost'
---
The Propel Way is an eye-opener for entrepreneurs who choose to run their firms based on preconceived notions of business growth. Hardik has introduced real life examples to help the reader correlate. A very insightful book for leaders who like to make a difference.
Ayush Bansal
Executive Director, BNI Vapi
---
Every company comes to a point where it is functioning but not thriving. This is just like what often happens with human beings. We go to shrinks, friends, psychiatrists, family, and we introspect to try and find out what is wrong with us. In the same way, we need to do the same for our companies.

It is true that we build a business with our own two hands. But only a handful of us are fortunate to let go of the possessiveness, or to stay away from the tendency to micro-manage. Therefore, both our company and our personal lives get affected. This is exactly where The Propel Way fits in.

While many business growth mentors concentrate on working with the giants and ignore SMEs, Propel is different. Hardik and Fowzia are brilliant at what they do, and it reflects in their clients' success stories.

Hardik is passionate about what he does, and this book is a brilliant way to showcase his committed approach. It is the perfect guide to what an entrepreneur should, or should not do. After reading this book, you are definitely going to question yourself, your work, and methods. This book is only going to help you achieve better. And yes, who wouldn't want to take-off on a three-month holiday while your business continues to run without you?
Happy Reading
Chaitaly Mehta
Director, EKF GLOBAL Logistics Private Limited (formerly Express Kargo Forwarders Pvt Ltd)
---
Efficiency is the most valuable commodity today, and this book will help you see your business through that lens. Entrepreneurs today are pulled in a hundred different directions. Amid this scenario, it is wise to learn how to work smarter, and not harder, and to understand the difference between success and failure. This book will make that difference.
Nityanand (Nitz) Shetty
Founder, CEO, and Managing Director, Essen Vision Software Private Limited.
---
The author depicts scenarios in the book that are commonly experienced by entrepreneurs across industries and countries. These analyses, therefore, make The Propel Way universally relatable. An absolute must read for both seasoned and new entrepreneurs.
Ajay Arora
CEO & MD, DataComp Web Technologies Private Limited
---
I recommend The Propel Way as an excellent manual to implement performance management in your organisation. My best wishes to the author, Hardik Harsora.
Raj Shah
Director, Nassolkem Private Limited
---
One of the most engaging business and leadership books that I have read. Hardik Harsora has beautifully penned each step to adopt in The Propel Way in an easy-to-understand manner. If you are a new-age leader with a growth-mindset, then this book must be on your desk.
Rahul Shah
Director, Nassolkem Private Limited
---
It has been a great experience working with Hardik and his team for process improvements. We continue to work with them and have seen major benefits in various areas. Effex has helped Powerflex to transition from being an individual-run business to a system-run business. Hardik's book is the need of the hour for every entrepreneur.
Nayan Jagani
Owner, Powerflex Industries
---
The most interesting aspect of the book is how Hardik Harsora subtly gets you to absorb that the most effective way to kill competition is continuous improvement of business processes. Growth and success then become mere by-products. A fantastic read indeed.
Runish Chheda
Director, Satyam Collection Greetings and Gifts Private Limited (Satyam Collection)
---
Dear Hardik,
I am happy to learn that you've penned your experiences for the benefit of entrepreneurs. I am sure that readers will benefit immensely from your articulate detailing of The Propel Way. The steps comprising define, evaluate, design and implement will definitely help all businesses to propel their growth. Having listened to you on many occasions, I am certain that this book carries a lot of insights and thought provoking experiences. These will make entrepreneurs ponder over their present systems and embrace growth related changes.
I will recommend your book to people in management positions across companies who would like to introspect on current business systems and find solutions for the betterment of all. I wish you, and your team, all the very best.
CA. Sachin Singhvi
F.C.A., D.I.S.A.(ICA), Insolvency Professional
Director, Integrated Insolvency & Restructuring Private Limited
Partner at Mehta Singhvi & Associates, Chartered Accountants
---
Hardik Harsora has vividly explained the entire thought-cycle and approach that every business owner must adopt while planning growth, and prior to introducing performance management in an organisation. This is a highly recommended book.
Chintan Vyas
Owner, Espresso Events
---
The Propel Way reiterates with interesting examples that an organisation is only a reflection of its leader. The leader's mindset is a key influencer on whether the organisation will be successful. My best wishes to Hardik Harsora for this book. We have gained immense benefits from his consulting services.
Jigar Satra
Co-owner, Reliable Prints
---
Getting introduced to Hardik, his thought processes, his convictions and passion has added to my life-changing experiences.

Hardik's logical way of arriving at solutions, and his style in explaining concepts, is par excellence!

The Propel Way is definitely a path-breaking route to problem-solving for businesses today.
I remain an ardent admirer of both Hardik and Propel.

I am most happy that he's finally published this book as I'd been encouraging him to do so. It will immensely benefit all traditionally run businesses.

Keep Propelling!
Jaspal Singh Bindra
Owner, Punjabi Kadhai
Owner, Kesar Caterers
Partner, Kurseong Diaries
---
Hardik has written the Gospel truth! Treat this book as your business Bible and transform your business. A must read for every entrepreneur.
Nitin Ahuja
Owner, Videohms Agencies
---
This book is your go-to guide for the thought-process and steps that a business owner must take. These steps can grow an organisation in the right direction, and in a well-coordinated manner. I loved the snippets and examples that Hardik has used throughout the book.
REALTOR®️ Ramprasad Padhi
Owner, Mumbai Properties